Backhoes by Portable Work Tools
Portable Work Tools is one of the world's leading manufacturers of portable digging equipment. Products range from backhoes built to fit any Class 1 ho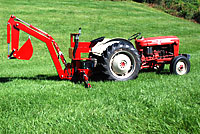 ok up on a farm tractor to units that are completely self contained, towable at highway driving speeds and even units that are towable, self powered and drivable.
We now offer three versions of our original "TenderFoot" backhoe that all share in many years of continuous product development through customer comments. All three models share the same main backhoe digging components such as the boom pivot, boom arm, dipper arm, buckets and hydraulic components. Only the base or platform changes between the models to fit your particular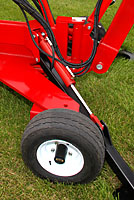 needs. All models have the same digging capacity and are available with the same features and accessories.
Our original "TenderFoot Model 420" still represents the best value for any dig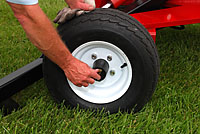 ging tool at any price. Its rugged construction, low cost and ease of operation make it ideal for home, farm or construction site.
The "TenderFoot Model 620" portable backhoe is the worlds' only drivable and towable backhoe. The drive system lets you change from towing to driving and digging mode with just a turn of the lockout hubs. Hydraulic motors give you zero turn capability and the outriggers are controlled by independent hydraulic cylinders. The "TenderFoot Model 620" is also available with an optional post-hole digger and a thumb for heavy lifting. With all of its features and accessories the "TenderFoot Model 620" is the most productive and versatile digging tool anywhere at any price.
Our third model, the Portable Work Tools Model 820 fits any tractor with a standard Class 1, three point hook up.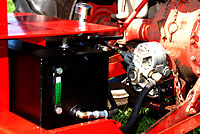 It features a unique 6 spool control valve for complete control of all functions in one place right at your fingertips.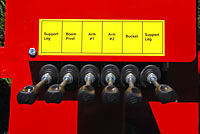 The standard set up uses tractor supplied hydraulic power. Optional PTO hydraulic pump and separate fluid reservoir are available for tractors without a hydraulic accessory option. These units are typically shipped fully assembled and filled with hydraulic oil so they are ready to go to work immediately on delivery – no assembly required.
All three backhoes are ideal for farming, light construction and landscaping. These portable backhoes tow right to the job site and go places the bigger backhoes can't go. Our towable models run on balloon type tires so they won't put "ruts" in your yard. There are different size buckets, a post-hole digger and thumb kit attachments available that can easily be changed out in just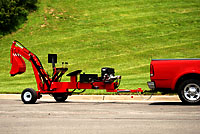 minutes. We have even made custom one-off accessories for some of our customers.

Please keep in mind that both "TenderFoot" portable backhoes can be towed at regular highway speeds behind your car or truck. Tongue weight is approximately 130lbs. Customers have picked up their backhoes at our factory in Kansas City and towed them as far as California and Florida.
All backhoes feature a combination of heavy duty, box beam and plate steel construction for even the toughe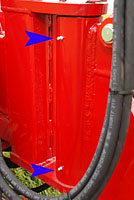 st conditions. We've worked hard to make our backhoes as heavy as possible – more weight means better performance.
Grease zerks are located in the critical locations on the main boom pivot and both boom and dipper pivots. This provides a lifetime of service and performance from your backhoe.
We use standard, over the counter hydraulic components on our products to help keep costs down and so you can have components serviced locally if desired. These are the same components on virtually all of the products we manufacture so the hydraulic systems are simple, reasonably priced and bullet-proof for unequaled ease of use and durability.
Finishing colors are done with a tough powder coat finish with special UV protection so your equipment maintains that "like new" look for many years.
Units are manufactured from start to finish entirely in the USA at our plant in Kansas City, Missouri. All cutting, welding, fabricated and assembly operations are done in one location so we have complete control of the quality of our products and of course, so all our manufacturing jobs stay right here in the US.
Portable Work Tools is located underground in caves that were originally limestone mines. After the mining was completed the caverns were converted to office and warehouse space with a total of almost 4 million square feet. This unusual location gives us the ideal environment for manufacturing. The temperature remains constant year round without heating or air conditioning which helps keep our costs down. It also keeps our employees comfortable and happy no matter what the outside weather conditions so they can focus on building you a quality product
Last and most important, we take pride in everything we manufacture. Your portable backhoe will be carefully inspected at the factory before it ships. If you should have a problem Portable Work Tools will at any time within 1 year of the date of delivery repair or replace (our option) any part found defective in workmanship or materials.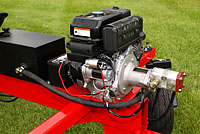 This warranty even includes hydraulic components not manufactured by Portable Work Tools.

Currently we use Kohler engines exclusively on all our products. Your Kohler Command Pro motor is warranted directly from Kohler for 2 years and is covered by their nationwide network Kohler authorized service centers.
Thank you for your interest in Portable Work Tools and our products. We look forward to talking to you soon.